---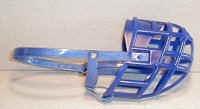 Kennel Muzzles are required for every Greyhound owner during coursing, or competitive active play with other Greyhounds. Also for inappropriate behavior while at home or attending meet and greets. The muzzle construction is a soft plastic grid regulation size. The adjustable headstall fits all Greyhounds from 40 lbs to approximately 90 lbs. The kennel muzzle is designed with an open grid-end for eating or drinking water.

Assorted colors - please allow us to choose.

Small for females or small males, Large for males.