---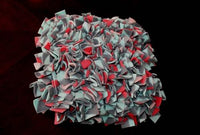 Assorted Designs – Please Allow Us to Choose!

Fabric pattern will vary from the picture due to availability of fabric
Snuffle mats are training/enrichment toys that encourage what comes naturally to your hounds! The mats mentally stimulate your pets by making them sniff out and forage for dry kibble and treats, thus slowing down those pups who tend to "inhale" their food too quickly.


Only dry kibble or dry treats should be used with Snuffle Mats. Kibble or treats are placed into the mats to encourage your dog to sniff out the food. They can be used with small amounts of food for a treat or as a feeding device to slow down fast eaters. As always, you should monitor your dog's overall daily consumption and not over feed.


The base of each mat is soft plastic, and the fabric is washable fleece. The base is 12" x 12", and the finished size is approximately 15" x 15". Mat should be shaken out after each use; hand washing is recommended. Lay flat to dry and shake to fluff.


**Disclaimer** Always supervise your pet when using the mat. Consumer accepts all responsibility by purchasing and using these products. Not recommended for aggressive chewers.